2018 Ford Ecosport vs Honda HRV

Introduction
Let's look at two popular cars for drivers in the Overland Park, Kansas City, and Leavenworth, KS areas. The 2018 Ford Ecosport and 2018 Honda HR-V are classic compact-SUVs that are fun to drive in the city, around town, and highway.
These compact-SUVs give drivers a smooth ride and their passengers more leg space. Instead of the bulky feeling of a big SUV, the Ford Ecosport and the Honda HR-V are easier to maneuver and easier to drive and feel stable like sedans. Mini-SUVs, as they are sometimes referred to, are penetrating the market because drivers get the best features of SUVs and sedans without many compromises. Many car shoppers decide between these two models since both get good gas mileage, have trunk space, and are priced at a good value.
Small SUVs are slightly more popular with women. According to J.D. Power data, 55% of mini-SUV buyers are female, their median age is 54, and their annual median household income is $80,425. More than 50% of small SUV buyers prefer to buy cars from domestic companies – so Ford checks that box. But, the EcoSport was actually built in India.
You will find these cars fitting whether you are looking for a zippy car to fit your family in or looking for your first car to get you to your job during the week and out for adventures on the weekends – and anything in between.
Read on about the specs and pros and cons of each.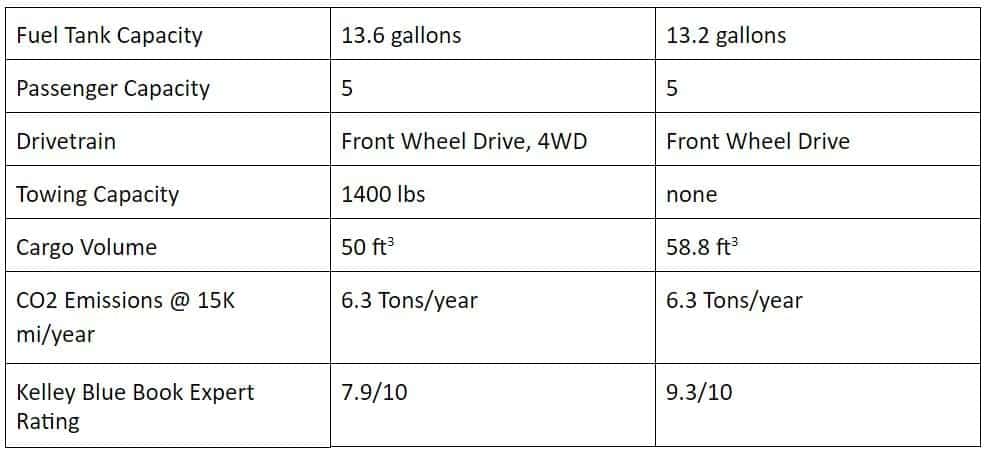 Description of 2018 Ford Ecosport
This zippy car created quite the stir when it came into the scene in the United States in 2016. The car was introduced abroad to European and Indian markets in 2003 and perfected before coming to the US. The EcoSport was the first Ford vehicle to be manufactured in India. It was made from the frame of the Fusion (European version, not the same as the US version), but tweaked to have higher clearance, more headspace for passengers, and to compete in the growing crossover SUV segment in the US.
The EcoSport is best known for its good value and maneuverability. It is the shortest of all current small-SUVS and 7.8 inches shorter in length than the HR-V. This makes it easy to squeeze into parking spaces and turn three point turns into U-turns. The car has a side-hinged tailgate, which could make it more difficult to access when parking is tight.
The driver and passengers enjoy tall ceilings for plenty of headspace, though backseat passengers give up some leg room compared to those in the Honda HR-V. The Ecosport has slightly less cargo space than the HR-V, which is okay if you do not have a lot to move in one trip.
Consumers and auto experts alike love the Ecosport's infotainment system. The 2018 Ford Ecosport has a SYNC 3 Infotainment system with Apple CarPlay and Android Auto smartphone projection technology. The Sync Connect has a 4G LTE Wi-Fi hotspot, and the Ford Pass smartphone app lets drivers check the vehicle's location in a parking lot and fuel levels remotely.
The 2018 Ford Ecosport is available in several versions, all with different price points:
Base S: $19,995
Mid-Level SE: $22,905
Lux Titanium: $25,740
SES: $26,740
This EcoSport is a practical, everyday vehicle practically built for the streets of Kansas and Missouri.
If you are interested in checking out the 2018 Ford EcoSport, browse Zeck Ford's online selection for more information. Want to test drive one? We can make that happen too! We have several versions of the 2018 Ford EcoSport for sale for the best prices anywhere.
Description of Honda HRV
Consumers shopping for a small-SUV also check out the Honda HR-V. The first generation of this vehicle was also introduced in Europe first, and Japan as well, before coming to the United States in 2014. HR-V stands for Hi-rider Revolutionary Vehicle, according to Honda's website.
The HR-V came out of demand for a smaller, more maneuverable version of Honda's CR-V, its classic SUV. Kelley Blue Book writes, "If you're seeking a vehicle with more interior room, ground clearance and all-weather capability than a traditional small car, the 2018 Honda HR-V subcompact SUV has you covered."
This vehicle is not as tall inside for the driver and passengers, but offers more leg room for those in the backseat. The backseats are Honda's special 'Magic Seat,' which fold completely down creating a flat trunk for transporting bigger loads. The HR-V has updated safety features for both the driver and the passengers, and Honda Lanewatch reveals the right-side blind spots.
While it gets good gas mileage, it sacrifices more power. Though it has an acceptable level of acceleration, the HR-V's engine can get rather loud when you lay on the gas, which you will have to do a lot to achieve peak power of 6,500 RPMs. It is not fast, but it is fun to drive.
The Honda HR-V is available as automatic or manual transmission. It comes in six versions all with different price points and features:
LX: $20,520
Sport: $22,220
EX: $23,720
EX-L: $25,320
Touring: $28,540
Though not as maneuverable through the city streets as the Ford EcoSport, the Honda HR-V is a classic example of a small-SUV which is great for anyone looking for the best qualities of sedans and SUVs.
Find Zeck Ford's selection of 2018 EcoSport models online here!