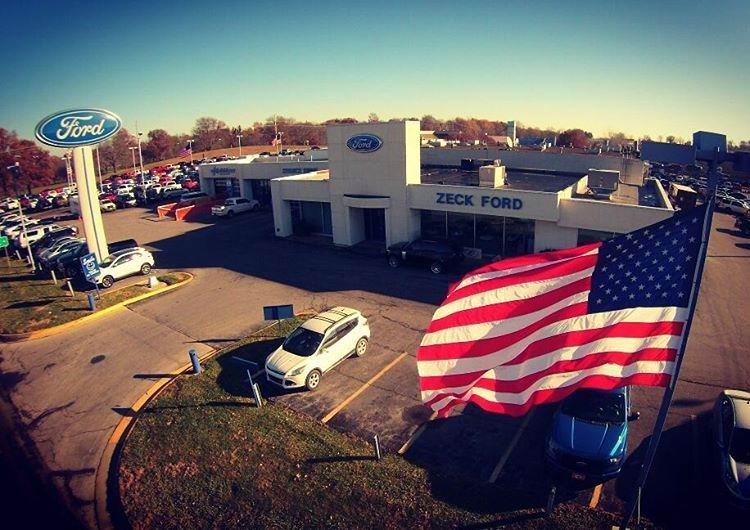 "Let no one ever come to you without leaving better and happier."
At Zeck Ford, we are revolutionizing the car buying and ownership experience. Forget everything you know about purchasing a car - Zeck Ford in Leavenworth, KS is building a new paradigm where buying a car is once again an enjoyable experience that you'll look forward to.
We believe that driving your brand new car away from our lot is one of the best feelings in the world, and we do everything we can to ensure that excitement is extended throughout the entire car purchase process at Zeck Ford.
No Haggling Is Ever Required at Zeck Ford
Easily the most annoying thing about the car purchase process is being forced to relentlessly haggle to get the lowest price on a vehicle you already want to buy. At Zeck Ford, we ask - why does this have to be the case for automotive purchases? Few other industries work this way; they set the price and that's it. Haggling at dealerships is a pain and wastes everyone's time.
Instead, Zeck Ford has done away with this practice by offering the lowest price possible on every car sold at our dealership. First of all, you'll no doubt be pleased with the great prices we are able to offer as we're not trying to add on a little extra for haggling like other dealerships do. We give it to you straight, and you can decide for yourself if our low prices are worth it to you.
Of course, this also means that there's no awkward haggling stage as part of the purchase process, making for a stellar purchasing experience for you. Car purchasing will never be the same again.
Our Salespeople Do Not Work on Commission
Secondly, we want you to be able to relax and take your time choosing the car of your dreams. Our salespeople do not work on commission. In fact, we like to think of them more as "personal shoppers."  They will be just as happy when you get the best deal possible for you as you will be. They have no incentive to push you through the process quickly or try to upsell other items, unlike virtually all other Kansas, Olathe, and Shawnee dealerships. They only work to give you their knowledge, and as Ford Factory Trained and Certified professionals, they're the best in the business, imparting over 100 years of collective knowledge working with Ford vehicles.
Our Vehicles Have Been Rigorously Inspected
At Zeck Ford, we thought hard about how else we could revolutionize the auto industry and make the purchasing process even smoother for you. Before any vehicle is put on sale at Zeck Ford it undergoes a rigorous multi-point inspection to ensure it is up to our exacting standards. If it's not good enough for us, it never makes it onto our sales lot. This means that we have only the highest quality used Fords in Kansas City, and you can have every confidence when choosing your next vehicle at Zeck Ford.
We Offer You the Best Inventory Around
What else has made Zeck Ford the Dealer Rater 'Dealer of the Year' for five years in a row? Our extensive inventory of vehicles is one thing. We have all of the new award-winning Ford vehicles on show at our dealership, ready for your test drive. Considering a Ford Expedition, Ford Edge, Ford Escape, or a Ford Fusion? Zeck Ford in Leavenworth, KS has all of this year's latest models awaiting you.
Pre-owned vehicles offer you the chance to get your dream car at a deep discount on new car prices. We offer one of the largest selections of used vehicles in Kansas you'll find.
We may be a Ford dealership and the majority of our used vehicles for sale near Kansas City are Fords, but we also offer a number of other makes for sale. We offer specials on used cars and a CarFinder service.
If you're considering a trade-in, know that Zeck Ford's knowledgeable staff will be able to offer you an excellent price for your vehicle as we'll be able to sell it on ourselves rather than involve a middleman.
Kansas Car Servicing and Tires
Zeck Ford's service center is a state-of-the-art facility that is packed with the modern tools and equipment required to take the very best care of your vehicle. Whether you need your scheduled maintenance performed or looking for a complete tire change in Kansas City, Zeck Ford is the place to come.
Our Kansas City tires are sourced from no less than 13 of the world's best manufacturers, and we are able to supply and fit tires on any make and model. We stock tires from Firestone, Goodyear, Pirelli, Dunlop and Uniroyal, among others. We even offer a complete Low Price Tire Guarantee - if you find your tires for sale anywhere for cheaper for up to 30 days after purchase we'll match that price.
For tires in Kansas City and the very best car servicing in Leavenworth, choose Zeck Ford.
Our Customers Agree
Perhaps the best way for you to see just how different Zeck Ford is, is to hear it directly from our valued customers who come time and time again to experience the Zeck Ford difference. We have amassed a huge number of reviews from customers over the decades, and we invite you to hear it straight from the horse's mouth.
Zeck Ford is no mere dealership - we're the future of car purchasing and ownership in Kansas City.