Why Zeck Ford is Your Go-to Kansas City Car Dealer

There's a reason our logo looks like Superman's – we save hundreds of people a year from dealing with the broken car-buying model.
The car-buying model is riddled with lack of trust, no relationship between customers and dealers, and an incentive system that rewards the wrong behaviors in salespeople.
Car buying is broken, we are here to fix it.
We care deeply about saving our customers from these troubles. Buying a car is different – from the salesroom to the streets – at Zeck Ford in Leavenworth, KS. Why?
We do everything with purpose of making our customers happy. With today's technology, a customer-centric pricing strategy, and extensive employee training, we aim to make our customers, customers for life.
Keep reading and we'll answer your questions about why Zeck Ford is your go-to Kansas City car dealer.
Why can you get the best deal in town at Zeck Ford?
We have a dedicated team of buyers that scour the country looking for areas with the best deals. That way, we can offer our customers quality cars at the lowest price possible.
Our customers save about 10%, on average, compared to buying from a traditional dealership.
Why do people like shopping for vehicles at Zeck Ford?
Because they can buy at their own pace from salespeople who care about them.
Our salespeople do not work on commission. They have no incentive to upsell other items or push you through the process quickly. Therefore, our salespeople and customers build relationships around trust. Zeck Ford salespeople are a resource and not a nuisance.
Think about it as having a "personal shopper" to guide you through buying a car. Our salespeople work only to give you their knowledge and are just as happy as you to find a great deal.
Zeck Ford salespeople are Ford Factory Trained and Certified professionals.
Customers at Zeck Ford save time by shopping at their own pace. Instead of spending hours at the dealership, you can do much of the shopping online. We offer an advanced online search tool that shows all our new and pre-owned vehicles, comparison tools, customizable loan or lease options, and much of the information you need to make your decision (besides driving the car, you still need to come into the dealer for that).
If you need to chat with someone, you can utilize our ChatBot to text your questions to a (real-life!) salesperson.
Below is an example of what our results page displays for a search.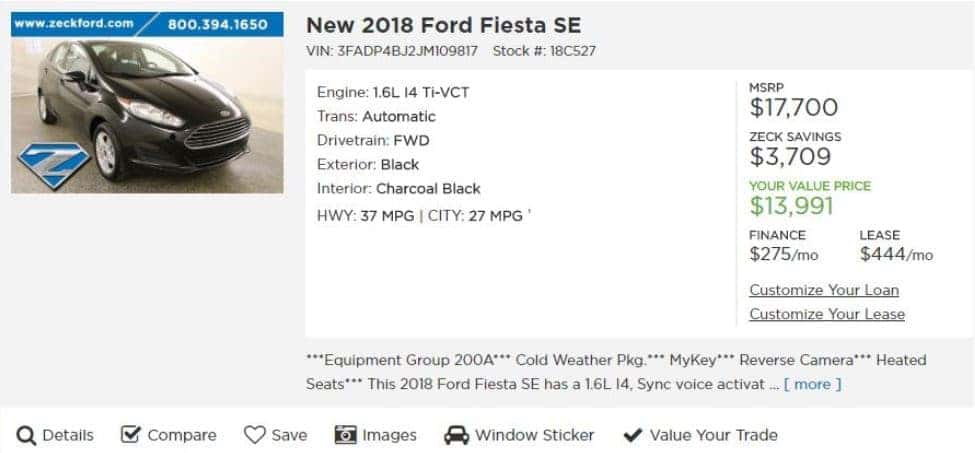 Why does Zeck Ford sell the best new and pre-owned cars?
Every vehicle, new or pre-owned, on our lot undergoes a rigorous 120 Point Inspection. Every car on our lot passed inspection, so our customers have the peace of mind that the cars they view, and ultimately decide on, are quality cars.
Our customers deserve to drive a safe, reliable car that is right for their lifestyle and budget. We help them find the right car to do just that.
Why does Zeck Ford provide painless car service?
How can we have life-long customers if we do not keep their car running smoothly. Traditionally, customers have fractured relationships with their car dealer. They were tainted by unfair/unaligned warranties, expensive repairs, and high-turnover of maintenance crews.
If we sold you the car, we know how to fix it at highly competitive prices.
Same as our dealership, we are customer centric. Our award-winning service department provides friendly customer service in our clean, modern facility, with state-of-the-art equipment, a computer invoicing system, and professional well-trained staff.
The average employment tenure of our service department staff is 9 years, and some of our staff have been with us for over 25 years!
Essential servicing on your vehicle keeps it in showroom condition and ensures that the resale value remains high. Regardless of the make and model of your car, we can perform the servicing.
Our Quick Lane service center allows you to get all your vehicle's routine maintenance (repairs, tire replacement and balancing, fluid flushes, brake repair/inspection, oil change, filter/belt/home change, etc.) done in one place without a fuss and while you wait. You don't even need to make an appointment in advance.
Our tire center is known across Kansas and Missouri as the best place to pick up a new set of tires to keep you safe on the road. We offer thirteen tire brands for all makes and models of cars – from BF Goodrich to Yokohama.
Our tire prices are unbeatable. Why? Because we offer a price match guarantee. If you find tires we sell any where else at a lower price within 30 days of purchase, we'll match their price.
Additionally, we have a comprehensive parts center with an extensive inventory. If we don't have the parts you need, you can easily order parts online, from the comfort of your own home, or in the store.
Check out our website for our service center specials.
Why is our Financing Center important to us?
Our financing center is an integral part of the customer's journey to buy.
Every car buyer is different, so our finance team helps everyone on a case-by-case basis to purchase their vehicle. Whether customers start the process online or in person, they can trust all questions to be answered to make an informed decision to finance a new car.
Zeck Ford has strong relationships and is committed to finding our customers the perfect car loan company to suit their car finance needs, no matter if they have no credit, low credit, or great credit.
We care about helping our customers, so we offer several tools to make financing easy-breezy. Check out our online car loan calculator for an instant car loan rate. Or, if you are trading a vehicle in, get your Blue Book Value and see how much it is worth.
Our financing center helps people be happy with their new car or happy with getting rid of their old car.
Conclusion
These are some reasons why we have been rated Best Car Dealer 6 years in a row by DealerRater.
Go to a car dealer that does not intimidate you, with salespeople who are as excited as you are to get a good deal on a great car, and a customer-centric service and parts department. Go to Zeck Ford in Leavenworth, KS.